Cast iron pots and pans are an essential thing when it comes to any kitchen. But cast iron pots and pans require special care when storing. So make sure to follow this quick guide for the best way to store cast iron pots and pans. Do it right and your cast iron items will outlive you.
How to Store Cast Iron
1. Preparation
The most important part of storing anything is the prep work you put in before. For cast iron pots and pans, you need to make sure they have been thoroughly cleaned and that they have been seasoned. Seasoned meaning that the iron is prepped as you would before you use it.
3. Check Your Climate
Humidity plays a large part in storing cast iron. There are different storage techniques depending on if you live in very dry or very humid places. If you live in a dry place, just roll up some paper towel and place it between the lid and the pot to allow airflow. If you live in a humid area like Vancouver, use rice and cover the bottom of the pan or pot with a thin layer to ensure no moisture accumulates.
4. Storage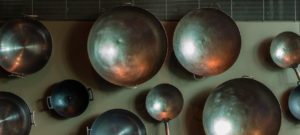 The ideal place to store cast iron pans is to hang them on the wall. As you seen in many kitchens, hanging is a popular method. If hanging isn't an option, then you can choose to store them in house, or inside a climate-controlled storage unit. For larger quantities of cast iron, a self storage unit is your best bet. Do not store your cast iron in the garage of the cellar, the moisture and humidity can ruin the iron.
Always remember the 3 most important parts of storing cast iron. Clean, Seasoned, and Dry. Following this guide, you should have cast iron pots and pans to last you a lifetime.