Are you moving soon? Are you a first-time mover? If so, you've likely given thought to all the things you'll need leading up to moving day – moving boxes, willing friends, and renting a moving truck. Amidst all the chaos of moving, one essential that should not be neglected is what kind of tape to use to seal your moving boxes. A lot of first-time movers will opt for whatever they have lying around their home – duct tape, vinyl tape, even painter's tape – though you are best off investing in a good packing tape. Here are some considerations to keep in mind when choosing how best to seal off your goods and valuables on the big day.
Packing Tape vs Duct Tape
Packing tape, without question, is the best for the job. There is a reason why UPS, FedEx, and every other shipping company uses clear packing tape to seal their shipments. It is sturdy, durable, reliable, and goes a long way – for home moves, you don't need to wrap the box numerous times to ensure that it is safely closed, as one wrap is often enough to get the job done. Duct tape, while famous for its ability to do just about anything, is not ideal for moving boxes as it typically requires multiple wraps to secure a box closed. Anecdotally, duct tape on the bottom seam of a heavy box has not always stood up to the task. Duct tape simply doesn't adhere as well to cardboard as does pack tape.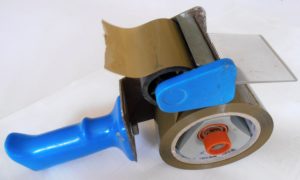 Use a Packing Tape Gun
One easy way to speed up the packing process is by using a packing tape gun, which dispenses the tape quickly and easily and saves the trouble of having to rely on your fingers to do the job.
Colour Organize
Some specialized packing tapes even come in different colours and include the names of different rooms inscribed on them every six inches or so which, when applied, identify the contents of the box and the room for which the box is destined on the other side of the move. This small investment can save you a lot of time and frustration and can help make your first move a lot less stressful.
If you need extra space on moving day, we have the right storage unit for you!